Stuck in Jawbone
Gauntlet Playtest 2: Open Table Stress Test
---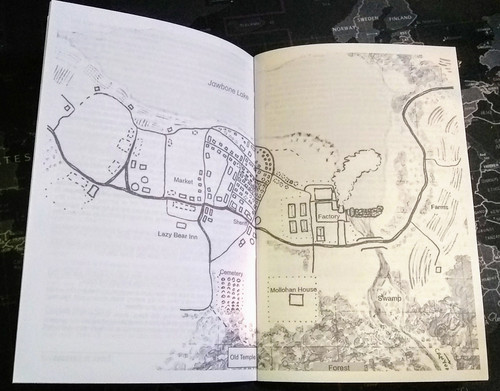 After the first playtest in June, I immediately started another month-long series on the Gauntlet. My players this time were Tom, Scot, Patrick, Adam, Will, Alex, and Brendan. Yes, that's seven players, in a four-session campaign. Each session had 3-4 players, and no two sessions had exactly the same group. This was quite a test for a complex, plot-heavy mystery.

It was a challenge, but I like how this series turned out. In spite of many technical glitches, an extremely open table, and my forgetting important details and having to awkwardly retcon, we managed to play out a fairly coherent story and wrapped things up well in the last session. Tom's jaded halfling mercenary, Baldwin, ended up being the heart of the series due to his ties with the NPCs. Patrick's laid-back barbarian, Korrin, was endlessly entertaining, as was Adam's arrogant, loose-cannon wizard Sadhana. And I wish we'd gotten to see more of Scot's bard Lucien and his shenanigans, which were only ever implied.

I also would have liked to see what was down the paths Sessions 1 and 3 seemed to be taking us. The crime boss Mickey One-Eye, introduced by a player who only attended the first session, never actually appeared on screen. And while it was implied that Alex's character just kept fighting her way through the tunnels until either she'd killed all the undead down there or they'd killed her, I wish I'd had time to give her a better enemy and let her go out in an unambiguous blaze of glory. I would have liked to see more of Will's character Ayla's interactions with the people she hadn't seen in seven years. And if we'd had a little more time, it would have been fun to play out Sadhana's heist at the factory. But even with a consistent group of players, we might not have had time to get to all of those scenes.

I think the series worked for the players who were in the last session. Even if they hadn't seen all the threads that were being tied together at the end, they'd seen enough for some "Aha!" moments. I'm not so sure about the three players who were only there for one session. I tried to give each of them something they could accomplish in a single session, even if they never saw the ultimate results. I think I succeeded there, and hopefully all of them found it worth their time.

Conclusion on playing Stuck in Jawbone with an open table? I think those who play at least two sessions will get a lot more out of it, but even players who drop in for a single session can have a decent one-shot experience. It works best if you immediately give the new character ties to existing PCs and NPCs, let them interact with those characters, and give them a discrete task that fits their moves and alignment. It's not ideal, but it's absolutely doable