Stuck in Jawbone
Version 0.8 coming soon, but not today.
---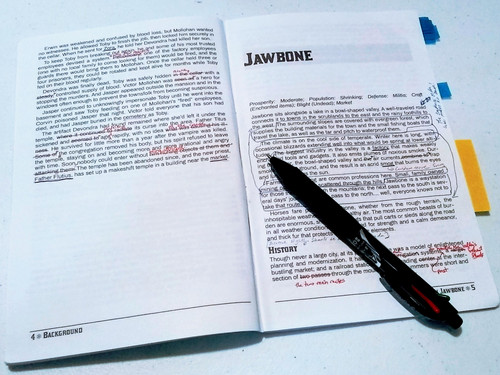 Almost done with v0.8! This version is mostly about making the section organization more consistent and navigable, clarifying and tightening the text. It's not going to look very different; I'm still working in LibreOffice Writer. Once the text is done, I'll move over to Scribus and lay it all out nicely.

I absolutely have to get it uploaded by the end of the month, because then I have to get to work on the TWO new games due in September:

- Unincorporated, a GMless story game about petty small-town drama and being stuck with a reputation you've long since outgrown. You'll be seeing an early beta version of this in the first half of September.

- My so-far-untitled Rainbow Jam 2019 game, which will be more or less a hack of For the Queen. Or at least, that's where I'm starting. I have no idea where it will end up, but the jam deadline is September 8th at 5:59 PM, so there'll be an extremely rough draft of whatever that is available right around 5:58.
So. Busy few weeks ahead.


ETA: A playtest version of Unincorporated is now available. The Rainbow Jam game, which ended up being titled You Don't Belong Here, is unsalvageable trash and I won't be updating it in the foreseeable future, so it's no longer available.